by Abu Aaliyah
Let's recap what happened earlier this year – On January 21st, 2017 the world witnessed what an ambitious, compassionate, powerful, and tenacious woman will do.
A day after the presidential inauguration, more than half a million women took to the streets of Washington D.C to protest against Trump's election campaign and political views. Images from the "Women's March" – as it was rightfully called – were deeply moving and went viral. Women of the world watched each other standing in solidarity to champion for civil rights and social justice. And the impact of this grass-roots, non-violent movement was so massive that it was duplicated 700 times across the globe.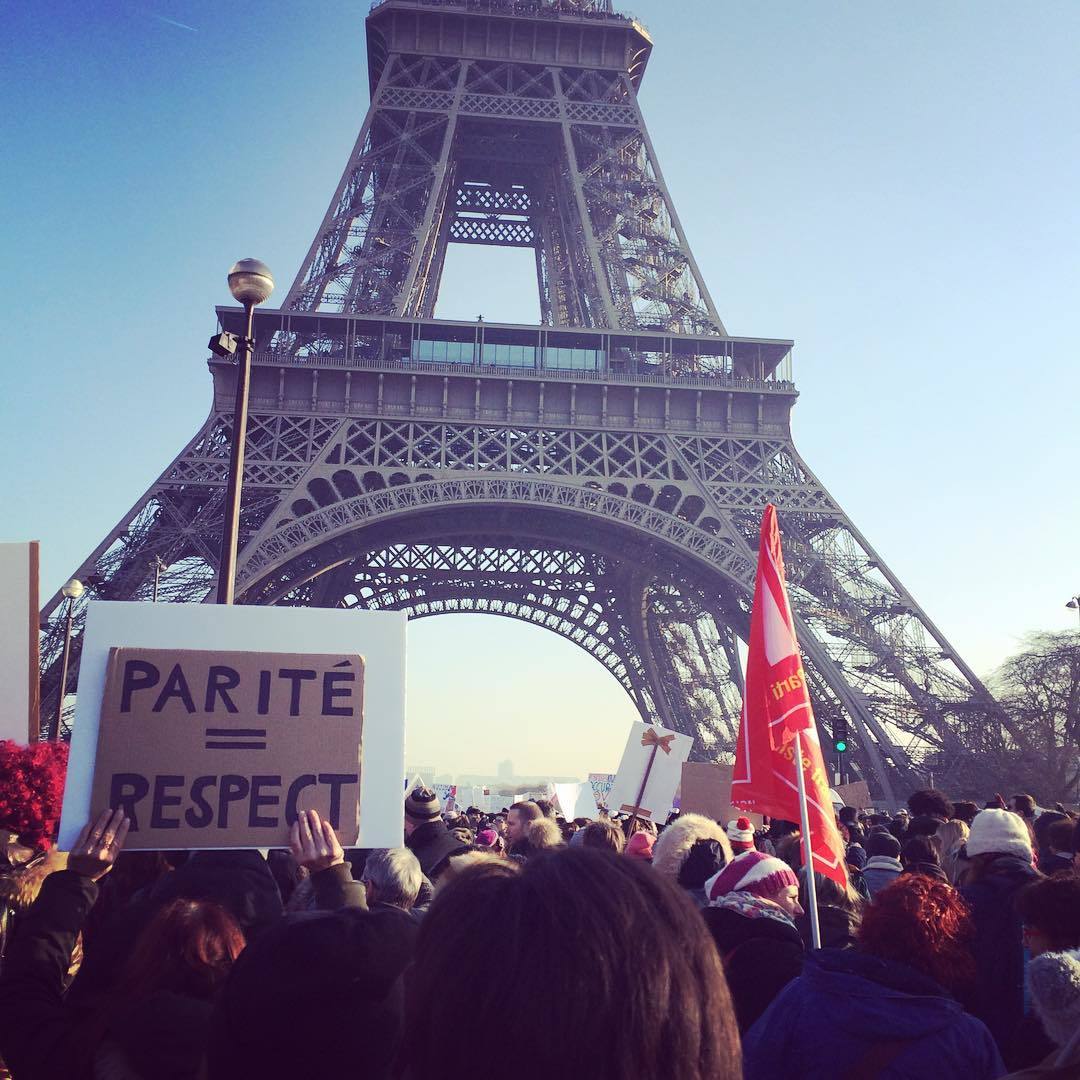 The women's march duplicated in Paris (Photo credit: Wikimedia Commons)
This should have been a proud moment for the Muslim world too. And in fact, many of us looked on with pride as we saw one of our own, sister Linda Sarsour, lead the movement against the threatening, insulting, and demonizing views of president Donald Trump.
If people don't know who Sister Linda is, they need to familiarize themselves with her work… ASAP. Sister Linda Sarsour is a Palestinian-American, Brooklyn-born, "tell it like it is" Muslim, who in 2015, advocated for the closing of public schools in New York City for the Eid-ul-Fitr and Eid-ul-Adha holidays. Sister Linda Sarsour's work resulted in New York city being the first metropolis to close schools for these Islamic holidays. And on January 21, 2017 she was one of the four main organizing co-chairs spearheading the Women's March.
Despite sister Linda's activism, not everyone is her fan. During the Women's March, Islamophobes campaigned against Islam and sister Linda's efforts. Ironically, these are the same folks who think of Islam as a "backwards religion" that subjugates and disenfranchises women. Still, in the face of such blatant Islamophobia, Linda displayed immense resiliency and tenacity. And within moments, allies and activists across America and the world took to social media with #IMarchwithLinda to show their support. Sister Linda, too, released a powerful statement in which she said, "We know where we need to go, and we know where justice is."
Undoubtedly, sister Linda's efforts continues to crush the stereotype of Muslim women. Through her leadership and exemplary work, she inspires Muslim women (and men), young and old, with hope that they too can push for positive change globally.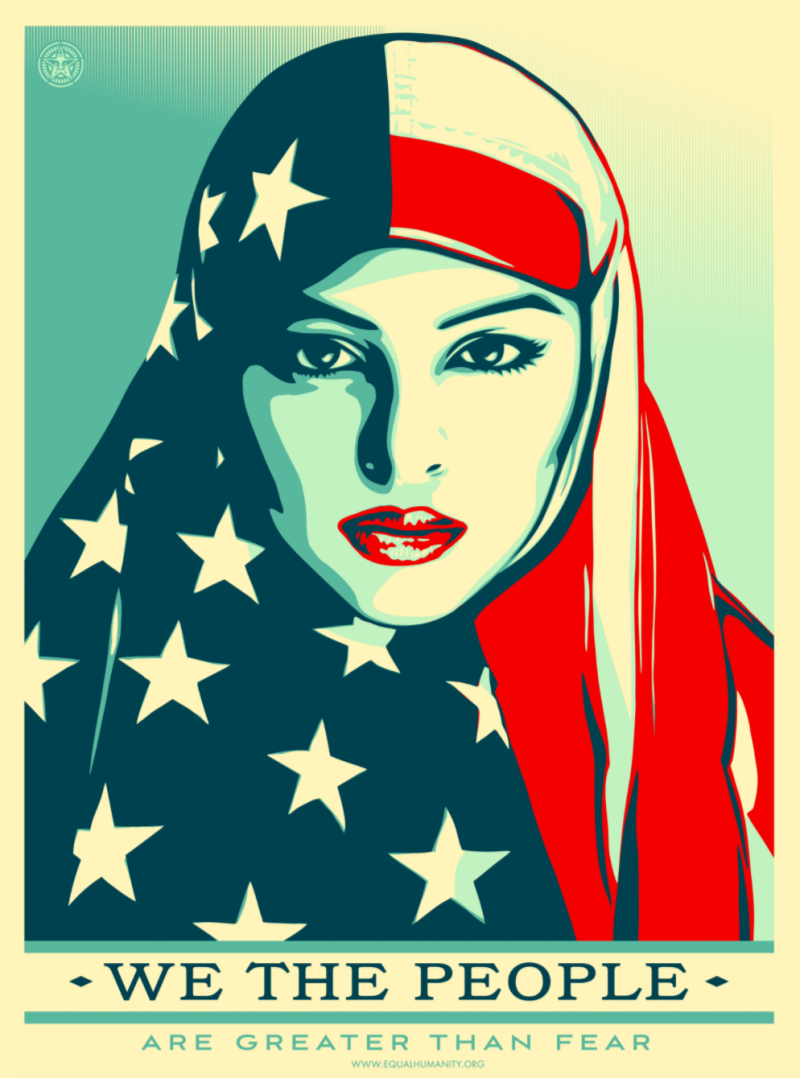 One of the symbolic images from the Women's March (Photo credit: Equalhumanity.org)
It is important to state that sister Linda's efforts are reminiscent of the contributions of Muslim women in early Islam. This is due to the prevalent thinking in societies across the world that a Muslim woman's contribution should be limited to the domestic realm. However, the life-changing work that sisters like Linda are doing clearly highlights that their leadership cannot be confined to within their homes.
Sister and author Huda Khattab reiterates this point in her book, Beyond the Kitchen: Muslim Women on Balancing Life, Family & Work, where she succinctly states, "home is our base, not our prison". She further goes on to talk about the role of women in early Islam, stating the following:
"If we go back to our 'Golden Age'  – the time of the Prophet (peace and blessings of Allah be upon him) and the Rightly Guided Caliphs – we will see that Muslim women have always worked… Women did tasks that went beyond the merely domestic… the earliest Muslim women also acquired and practiced others skills for which they became known and which took them beyond the home to interact with society."
Sister Huda gives the example of Khadijah (may Allah be pleased with her), a well-known business woman who engaged in trade with Syria. She also talks about Rufaydah (May Allah be pleased with her) who is considered the first female doctor in Islam because she tended to the wounded and provided medical care during the battle of Khandaq. And last but not least is the fourth greatest narrator of Hadith, Aisha (May Allah be pleased with her), from whom men would learn about their religion.
But apart from religion, what other reasons may require a Muslim woman to contribute positively outside the domestic realm? Sister Huda answers this question in her book after conducting interviews with multiple Muslim women. One reason given was that Muslim women feel a sense of purpose, self-fulfillment, and intellectual stimulation in their lives by making a positive difference in society. Furthermore, Muslim women often require personal and professional services from women only such as in healthcare. Other reasons for working included circumstances and economic conditions. Muslim women who are unmarried, divorced, or single mothers need to step outside the domestic realm as they are often become the sole providers for themselves and their dependents. Thus, Muslim women not only want to contribute to society but that under certain family and economic circumstances may have to.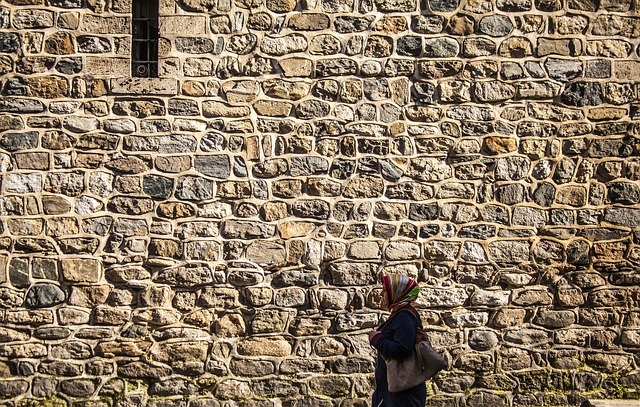 "Home is our base, not our prison", Sister Huda Khattab
But what about Muslim men like myself? One cannot ignore our impact in all of this and if there's any take-away for us.
The fact is that despite substantial historical and contemporary evidence of the importance and positive impact of Muslim women to society, it is not uncommon for Muslim women to present disenfranchised and dis-empowered in communities across the world. In these societies, the role and fate of a Muslim woman is predetermined by their male counterparts and the future outlook isn't always great. Such women are not only limited to the domestic realm but often lack access to basic education and/or work. They are completely dependent – physically, psychologically, and socially – on the patriarchs.
If there is a take-away here then firstly it is that Muslim men must revisit their understanding of the role Muslim women play in Islam and whether they are allowed to make contributions outside the domestic realm.
Secondly, the efforts of sisters like Linda Sarsour highlight the need for every Muslim to remain vigilant in a post-9/11 and post-Trump world. The importance of activism and perception cannot be taken lightly these days. Our communities must tackle the stereotypes as well as gender bias in schools, mosques, work, and other community establishments. Every Muslim, both male and female, needs to leave a positive impact on society. As sister Huda Khattab states, "All hands on deck are necessary".
Thirdly, men must resolve their issues and insecurities rather than "taking it out" on the opposite sex. Sadly, in numerous instances around the world, women are victims of violence because the man falsely believes that his worth or honour is tied to the level of control he has over the females in his house. Would that be the case then how do we justify the business dealings of Khadija, the nursing of the wounded by Rufaydah, and the teaching of Hadith to men by Aisha (may Allah be pleased with them all)?
And lastly, if all of the above isn't convincing evidence for the Muslim man, then he must think of his progeny. If Muslim men hope that their children become tomorrow's leaders, they must put them under the wings of people who exhibit leadership qualities. Muslim children need to witness these qualities from adults who are close to them. And the best people for this are those heavily involved in raising them, the parents. The mother, in particular, has an important role here since she's been honored with a 3:1 ratio over the father with respect to companionship in Islam. Due to the time and proximity of the relationship, it is this mother's compassion, empathy, hard work, entrepreneurship, tenacity, and other leadership qualities that her children need to witness. Let's not forget this oft-quoted adage, "Teach a man and you teach one individual. Teach a woman and you teach a nation". Therefore, Muslim men must support opportunities for education and empowerment for our sisters, which often need to be sought outside the domestic realm, so that our sisters become powerful mentors to the next generation.
What do Sister Linda's efforts mean to you?